Faculty of Information TechnologyDepartment of Information Media
International students can also apply.
Our policy for this department is to educate information media engineers and content production personnel mechanical engineers who have a well-rounded personality, broad perspective, superior creative energy, and an inquiring mind. Also, we aim to produce graduates have a sense of social responsibility and ethics enabling them to work effectively throughout their lives in development and creative fields, collaborating with creative media and application/content.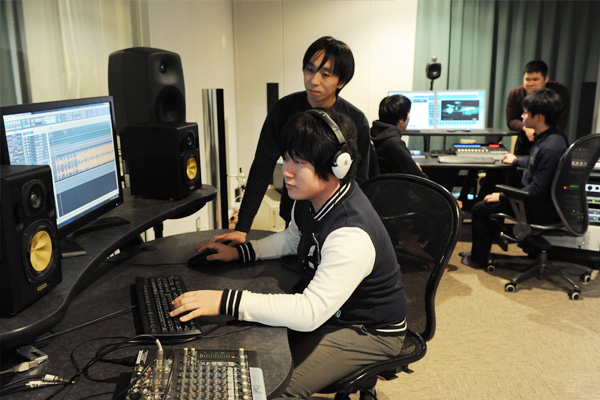 Education
Courses offered by the Department are as follows
Network Media Course
Students learn technologies related to networks and database, and acquire skills such as Web application development and mobile content production through experiential learning including programming.
Human Media Course
Students acquire skills as engineers well versed in media technologies with human media skills as image, visual processing, and sophisticated information technologies.
CG Animation Course
Students acquire the foundations for producing visual content in line with their intended effect by acquiring the necessary skills and know-how for CG animation production.
Sound Media Course
Students become well-versed in both the music and sound fields, giving them the technique and operational skills to work with a variety of voice and other sound production, editing, and acoustic systems. They also acquire foundational skills in music production.
Gaming Course
Students acquire skills as creative personnel in the gaming field steeped in technical knowledge and content production skills by implementing basic training in content production and hands-on experiential learning.
Character Course
Students acquire skills as active creators in a variety of fields through basic knowledge and hands-on experience related to characters from various media including novels, drama, movies, manga, robots, and on.