Faculty of EngineeringDepartment of Mechanical Engineering
International students can also apply.
Our policy for this department is to educate mechanical engineering personnel with a well-rounded personality, broad perspective, superior creative energy, and an inquiring mind. Our graduates would also have a sense of social responsibility and ethics as engineers, and be willing and able to do their part in the planet's rapidly-changing environment of both globalization and conservation, as well as development, design, and manufacture of ever-sophisticated industrial products. Our goal for our graduates is also to impart them with sufficient basic knowledge of mechanical engineering to effectively design machinery and mechanical systems throughout their lives as engineers.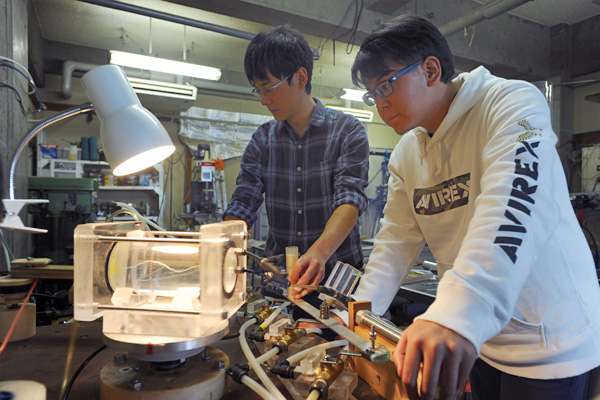 Education
Students enrolled in the Department of Mechanical Engineering (with the exception of the Aerospace Course) learn the foundations of mechanical engineering in a hands-on environment. In their second year, they choose from the Global Engineer Course and the Creative Engineer Course in accordance with their specific interests and goals for the future, during which time they take foundational courses in mechanical engineering as well as specialized courses in the respective fields.
Global Engineer Course
* The students who have entered the Global Engineer Course as of 2019 will be the final group.
This course is accredited by the Japan Accreditation Board for Engineering Education (JABEE) in recognition of the fact that it meets international standards. By encouraging our students to delve deeply into basic knowledge through this certification program; our goal is to turn out engineers capable of working on the global scale as well as in Japan. Graduates are automatically exempted from the Stage I examination for Professional Engineer, which is a national qualification.
Creative Engineer Course
Through hands-on studies, students acquire a sense of mechanical design using the computer as well as creative design abilities. In conjunction with hands-on courses, students are able to freely choose from a broad base of courses spanning all of the major mechanical engineering fields.
Aerospace Course
In this course, students acquire skills in the aerospace field, which is comprised of multiple advanced technologies, preparing them for practical application rooted in basic mechanical engineering knowledge. In addition, because products are created in this sector through international-level collaboration, engineers with broad experience working in English are in demand. This course also offers classes through which students can attain aviation licenses and experience, also enabling them to acquire knowledge in a broad range of aerospace sectors.