Faculty of Information TechnologyDepartment of Information Network and Communication
International students can also apply.
This department trains new information networks engineers specialized in information technology, network technology, and the relevant application technologies. Our goal is to achieve even greater sophisticated information networks, which form the basis of important social infrastructure such as the Internet and mobile phone systems today.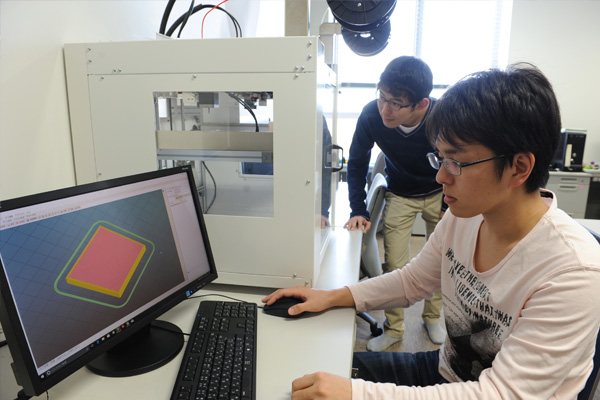 Education
As of the third year, students choose one from three highly specialized courses as follows.
Network Course
In this course, students learn the latest technologies, starting with the principles behind information networks—i.e. how information is conveyed over the Internet, mobile phones, e-mail, visuals, etc, that we use every day.
Next-generation networks
Mobile phone and mobile communication
Virtual networks
Security Course
In this course, students focus on the network society technologies, information security technologies, and security management technologies. These are required in the formulation of the virus protections, individual authentications, encipher technologies and more needed to ensure safety of information in our society.
Preventing information leaks
Virus defense
Electronic authentication technology
Application Course
Students acquire the knowledge and technologies connecting people with people, people with society, and people with virtual spaces including blogs, social networking services, Internet shopping, and more using the Internet and the Web.
Video communication technologyVideo communication technology
Virtual space
Social networking