Faculty of Information TechnologyDepartment of Information and Computer Sciences
International students can also apply.
Information and computer science is closely related to engineering fields such as electricity, control, mathematics, and so on. Moreover, it is based on life science, social sciences, the humanities and management science, and also its application areas are so vast. Therefore, our goal for our students is to have them develop their expertise based on computer systems and software technologies, as well as their communication skills to solve issues by collaborating with specialists from various field. All of these aspects works together to create extremely well-rounded individuals with a broad perspective; that is creative individuals working at very high levels.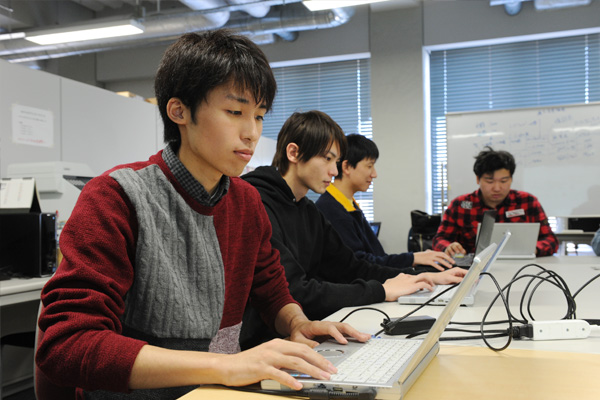 Education
The Department offers the following model courses.
Information Design
This course serves to educate individuals capable of making proposals to boost corporate productivity and management efficiency through information analysis. To achieve this, students are trained not only in the basic information technologies, but also in management, entrepreneurial foundations, and more, acquiring knowledge of corporate strategy, surveying, and planning.
Basic Information Studies
The goal of this specialization is to produce personnel capable of devising easy-to-use systems for developers, and who can teach others how to use the systems in an easy-to-understand manner.
System Development & Management
Students of this course learn new design technologies and development methodologies needed to build systems that require a high degree of safety and reliability such as Internet shopping, as well as large-scale systems typical of the cloud computing era. In addition to development, they also learn how to operate these systems.
Information Specialist Training
In order to facilitate the development of software used in mobile phones as well as autos and information electronics, what is needed is not only the skills to understand the entire development process, but also deep knowledge and understanding of each of the different fields. We educate individuals in these sophisticated specialized technologies.