Faculty of EngineeringDepartment of Electrical and Electronic Engineering
International students can also apply.
The importance of electrical and electronic engineering cannot be over-emphasized in today's world for its role in industrial technology including mobile communications, automotive, robotics, digital electronics, environmental technologies, and more. This department focuses on training in basic knowledge while at the same time in the acquisition of communication, problem-solving, and information application skills through hands-on work. Drawing out the individuality of each of our students, we work to generate engineers capable of responding to the needs and demands of society.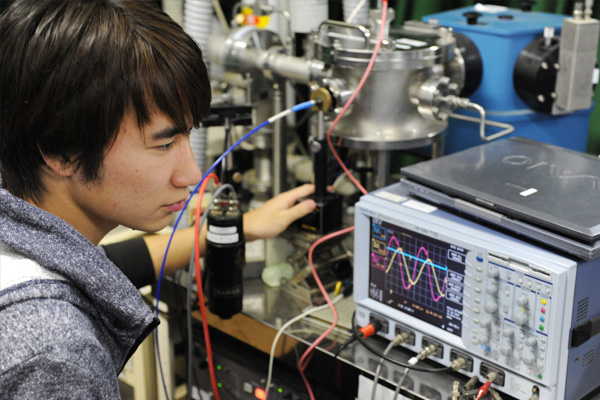 Education
Practical Engineer Course
The goal of this course is to produce engineers capable of working at a very practical level in industry in the broad field of electric, electronic, and information engineering. This is accomplished through specialization rooted in foundational experimentation including design, manufacturing, and improvement, with a focus on the socially and industrially significant fields of the environment, energy technologies, nanotechnologies, and optical communications technologies. By keeping compulsory subjects to a minimum, this course allows for a high degree of freedom in course selection.
Electric Work & Construction Management Expert Course
Students of this course are trained in electrical equipment technologies related to plants, intelligent buildings, housing, and more, with the goal of acquiring the relevant qualifications. The education provided includes support systems providing the theory, legal aspects, and technical instruction required to acquire qualifications such as Electric Works Specialist, Electric Works Execution Manager, Qualified Certified Electrician, etc.