Faculty of Health and Medical SciencesDepartment of Clinical Engineering
This course is designed for students whose goal is to attain the national qualification of clinical engineer. In order to appropriately apply and operate today's sophisticated medical equipment, it is critically important that students not only possess specialized knowledge and skills in the medical field, but also that they have specialized knowledge and a way of thinking appropriate to the field of engineering. The goal is to generate clinical engineers with solid skills that they can apply to the medical field, and to this end we provide thorough support to students preparing to take the national qualification in the field.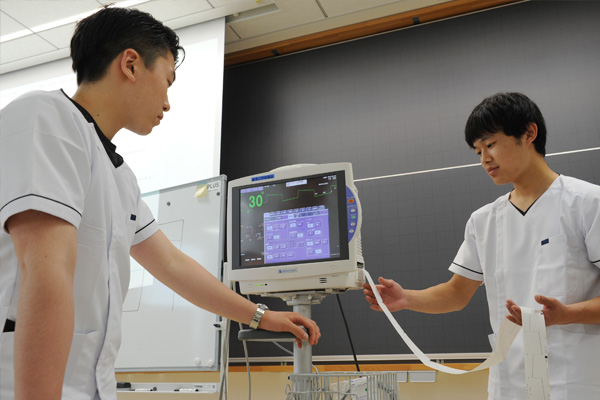 Education
Post-Graduation Profile
Our graduates possess specialized knowledge as well as practical skills in the field of clinical engineering, rendering them capable of contributing to the ongoing safety and effectiveness of medical equipment. These individuals should be able to fulfill the role of clinical engineer on teams of medical professionals.
In addition to acquiring a broad perspective as an effective clinical engineer and fostering a deep sense of humanity, our graduates acquire knowledge and skills of both the medical and engineering fields. Under the supervision of physicians, they learn to operate, maintain, and inspect life support equipment
Graduates possess the skills to develop an approach focused on communication with patients.
By acquiring the specialized knowledge and skills relating to ever-increasingly sophisticated medical technologies and equipment as well as the basic knowledge of engineering and medicine necessary for clinical engineers, our students acquire the foundations needed to engage in research and development of medical equipment.
After graduation, our students engage in operation of life support equipment including blood purification systems, artificial cardiopulmonary devices, respirators, and more; as well as the management of medical equipment in hospitals and clinics. Others are involved in the development and manufacture of medical equipment.