Faculty of Creative EngineeringDepartment of Robotics and Mechatronics
International students can also apply.
Our goal is to turn out sophisticated engineers capable of doing good things for society through educating them in the creation of equipment incorporating microcomputers such as robots, assistance technology products and self-help tools, health promotion systems, and more. Drawing on the individuality of each of our students, we strive to impart them with both problem-identifying and problem-solving skills.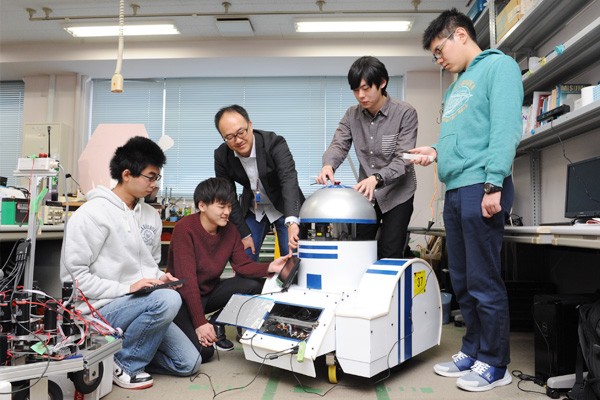 Education
We focus on a system known as Project-Based Learning (PBL) is designed for students to be able to think and act on their own. Under PBL, students identify issues and methods of analyzing them, polishing their practical skills by bringing together elements of mechanical engineering, electrical engineering, programming, and system integration.
Through a collaborative initiative of specialized training between PBL education and lectures, our students gradually come to work on larger and larger projects through a process of resolving issues in which they are interested and addressing questions they tend to have, thereby gaining in experience and knowledge. Through development of next-generation robots as their graduation research project, they become engineers capable of working in society.
Unit Program
Our institution has adopted a hands-on program designed to facilitate creativity. For example, under our program for the development and design of robots, our students select one of three project categories from amongst 1) power assist project, 2) multi-legged robot, and 3) mobile robot project. The students design and produce their own robots, and submit them to competitions outside of our institution.