KAIT held the 2nd "KAIT Racer GP," a self-driving radio-controlled car race driven by AI
On Saturday, Sep. 17th, the 2nd "KAIT Racer GP," "a self-driving radio-controlled car race run by AI", was held on campus.
The first competition was held in Mar. 2022, led by Professor Toshihiro Wakita of the Department of Vehicle System Engineering, and this will be the second edition. The objective of the competition is to provide students with an opportunity to learn about the fusion of information science and engineering by competing in the performance of vehicles, artificial intelligence, and motion control that they have built themselves, and to develop human resources who can contribute to the new development of industry.
This time, participants came not only from the campus but also from high schools. After attending a lecture on basic AI principles and driving methods in advance, each team built their own AI, and after repeated practice runs, they competed in the race, where each car showed off its features. The high school student team was particularly impressive, winning the 3rd place.
The Winning Team "Lycoris," in the Department of Vehicle System Engineering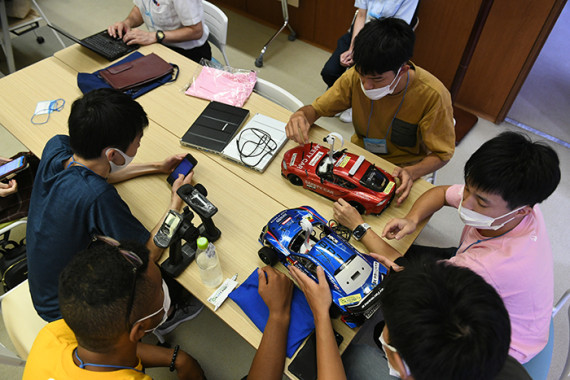 Yuichi Taniguchi a fourth-year student in the Department of Vehicle System Engineering of the winning team "Lycoris," expressed his impressions and future aspirations by commenting, "I think the reason we won the competition was because of our learning method and vehicle tuning. It was worthwhile to device the image acquisition method and to modify the tagging and other things as well when encountering the unsatisfactory driving. I have participated in this race since the first time, and I would definitely like to participate in future races," she said, expressing her impressions and future aspirations.
Assistant Professor Komiya, who organized the race enthusiastically commented, "In the approximately two months since they learned how to specifically use AI, they have made remarkable progress, competing in the race while challenging each other and teaching each other. We will share information so that more departments can participate in the future, and we also found that high school students have great potential to win prizes, so we would like to make this an active competition that attracts participants from both inside and outside of the university, including high school students".
Please see the video of the event from the following link.
https://twitter.com/KAITRacerGP/status/1572518423942565888
■Participating Teams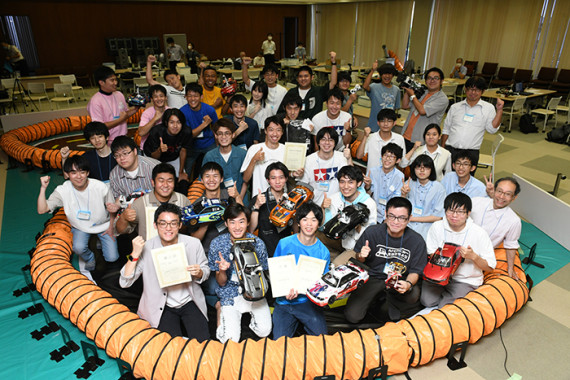 [Within Campus] 8 teams in total, Department of Information and Computer Science, Department of Information Network and Communication, Department of Electrical and Electronics Engineering, Department of Home Electronics Development, Department of Vehicle System Engineering.

[Senior high school] 3 teams in total: Kanagawa Prefectural Mukainoka Technical Senior High School, Kanagawa Prefectural Kanagawa Sogo Sangyo Senior High School, and Yokohama Municipal Yokohama Science Frontier High School