On Feb. 26th, Open Hack U 2021 Online Vol. 3, a hackathon hosted by Yahoo, was held online, and the work by "KAIT Beginners Team", Yuki Muto and Daijiro Nagano who are in their 3rd year of Department of Information and Computer Sciences, won the Excellence Award.
"Open Hack U" is an event where students plan, develop and present their own products within a limited period of time with the support of Yahoo engineers, creators and planners.
"OpenHack U 2021" was held in two terms: summer, Vols. 1 and 2, and spring, Vols. 3 and 4.
Vol. 3, held in the spring, had 25 teams and 100 participants.
"Card game, Karuta, for word memorization! Gain your English vocabulary"
The award-winning entries and comments from the winners are as follows.

◆Award-winning work
"Card game, Karuta, for word memorization! Gain your English vocabulary"
A karuta game for Windows application that can be played by 2 to 4 players. The game offers Japanese words, then the respondent is asked to carry the player to the correct answer with the arrow keys.
<Award Winners' Comments>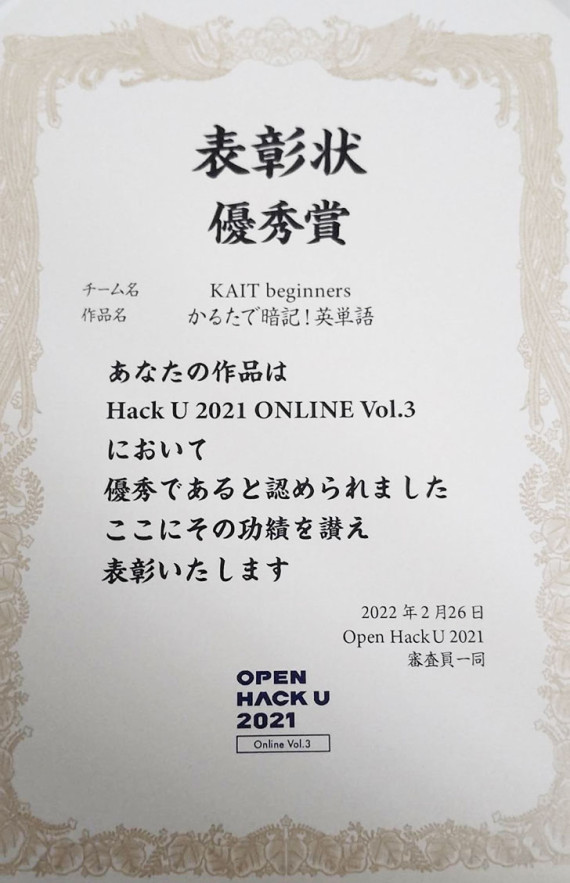 Mr. Muto,
"We were lucky enough as the judges found our plans interesting. We focused on the novelty of the idea rather than the quality of the abundant functions and other features. It was a good opportunity for me to start thinking about taking on further challenges in the future regardless of the outcome.
I also learned that it is very difficult to launch a project development with no past experience and properly divide the job among the team members."
Mr. Nagano,

"It took us a long time to decide what to make, and the work became so tight toward the end. If we had decided earlier, we could have been able to pay more attention to details."
The four criteria for this year's HackU were novelty, technicality, developmental potential, and reproducibility.
When deciding on the theme of English word cards, I thought that the same program could be used in other languages such as Korean or Chinese, so I thought it would well fall under the category of developmental potential.
When we received the award, I thought it paid us back after we had spent so much time on the theme, because the judges appreciated the developmental potential of the project in their explanations."
"Open Hack U 2021 Online Vol.3"
https://hacku.yahoo.co.jp/hacku2021online3/
"Presentation & Award Ceremony:YouTube"
https://youtu.be/Nm17wqU1jng