The U.S. website introduced the research results of Associate Professor Yoichi Yamazaki, department of home electronics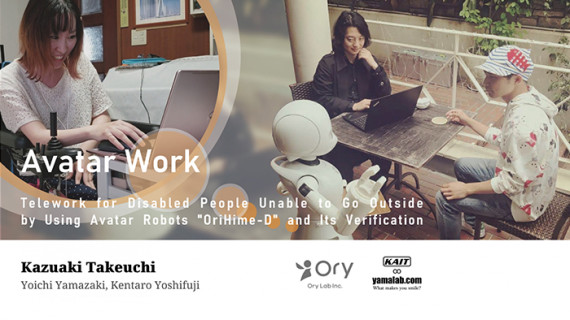 An academic paper that reported the joint research project. "Evaluation of Remote Employment by People with Disabilities using an Avatar Robot", written by Associate Professor Yoichi Yamazaki of the Department of Home Electronics, in collaboration with OryLab Inc.'s president Kentaro Yoshifuji, was introduced on Yahoo! Finance on U.S. Yahoo!.
Avatar Work
In this paper, they proposed "Avatar Work," a telework system that allows people with disabilities to engage in physical labor such as customer service by using a mouse or eye input according to their level of disability, with the aim of realizing a society in which people with disabilities can also participate.

They opened an avatar robot café for two weeks, in which the avatar robots OriHime and OriHime-D were operated remotely to serve customers, and evaluated the results of actual remote employment by people with disabilities. We have confirmed the following results and demonstrated that Avatar Work is suitable for people with various disabilities who want to participate in society.
It led to the mental satisfaction of people with disabilities.
We were able to set the workload according to the conditions of each person with disabilities.