<60th anniversary of the foundation>
Kanagawa Institute of Technology hosted an International Symposium 2023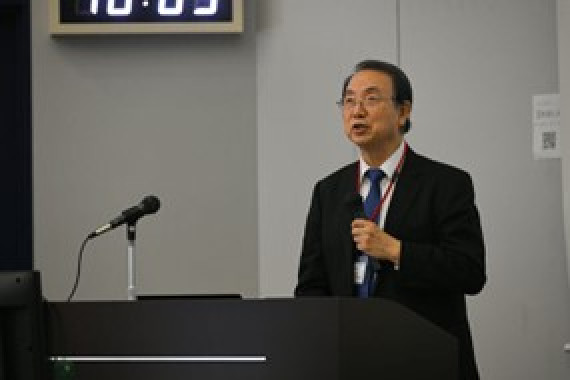 The university hosted a three-day "Kanagawa Institute of Technology International Symposium 2023" from Tuesday, Aug. 29th through Thursday, Aug. 31st to commemorate the 60th anniversary of the university's founding. The symposium was offered in a hybrid style, on campus and online, enabling overseas partner universities and others to attend via real time network.
This symposium was held in search of "what science and technology can do" from various perspectives, by domestic and international researchers to enable the true global society and the future embodying the globalism concept for those living in, and to enhance the efforts in for globalization among the researchers in the tightest partnership ever. Twenty-six researchers from Japan and abroad, 17 from overseas and 9 from Japan, engaged in research and cultural exchanges, as well as the students' research presentations, in an active, productive, and very meaningful symposium. KAIT's overseas partner universities congratulated us on our 60th anniversary with video messages, which was shown at the opening ceremony, further strengthening the ties between KAIT and our overseas partner universities.
In his keynote speech on the first day, President Kazumi Komiya introduced the current status and future direction of KAIT's activities stating "It will not be difficult to establish the International Research Center if we continue research exchange together in the future with this symposium as a start. It will be a great benefit to all concerned. Let us cherish the friendship fostered through this symposium.
<Keynote Speech>
The next speaker was Associate Professor Ratchatin CHANCHAROEN of Chulalongkorn University in Thailand, one of KAIT's overseas partner universities, who has long been involved with KAIT through research and traineeships. He introduced the past 10 years of exchange activities between KAIT and his university, which have been established through collaborative research and the acceptance of many trainees, and his plans for the next 10 years with the words, "Our collaboration is the key to our future."
<Presentation>
On the afternoon of Tuesday the 29th and the morning of Wednesday the 30th, researchers gave presentations on their research which is the main feature of this symposium.
Twenty-seven researchers from Japan and abroad, divided into six themes in the three fields of "Information," "Environment and Energy," and "Health and Life," gave presentations on their cutting-edge research and engaged in a Q&A session and discussion.
*Themes and moderators for each field can be found at the end.
<Panel Discussions>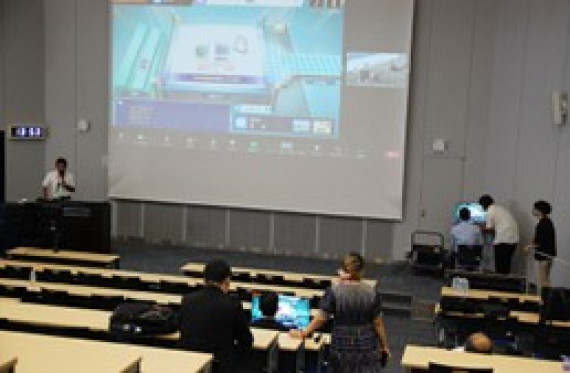 We had two panel discussions on Wednesday afternoon, the 30th, and Thursday morning, the 31st, on two different themes.
In the first session, "International exchange among students using eSports," Professor Shigeki Shiokawa, Director of KAIT's eSports Research Center, Department of Information Network and Communication, introduced the benefits of eSports, research at KAIT, and the maintenance of facilities, while students from KAIT's eSports Club introduced their activities and demonstrated eSports matches. It was a fun session that allowed participants to experience eSports in a casual way.
In the second session, "New Perspectives on AI in the Metaverse," three researchers from Bangkok University and Professor Kosuke Takano, KAIT's Department of Computer Science and Engineering, took the stage to introduce the Bangkok University VR campus in the metaverse, how the metaverse can be enhanced by the introduction of AI, and proposals for building an international research forum in the metaverse.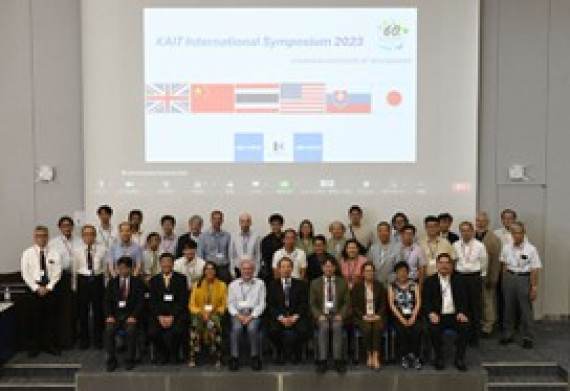 In his closing remarks, Professor Noriyuki Kawarazaki, Department of Information Systems, KAIT, gave a summary of the symposium and thanked everyone for their support.
We hope that the various exchanges during the three days will be utilized in the research and activities of all participants, as well as to promote KAIT's globalization efforts. We would like to express our deepest gratitude to everyone inside and outside of KAIT for their cooperation in organizing the Kanagawa Institute of Technology International Symposium 2023.
<60th anniversary of the foundation> International Symposium 2023
Science and Technology for Global Environment and Future Generations
KAIT International Symposium 2023
Organized by Kanagawa Institute of Technology
Endorsed by Kanagawa Prefectural Board of Education, Atsugi City, Atsugi City Board of Education, Kanagawa Shimbun
Also Supported by The Great Britain Sasakawa Foundation
■Results of poster exhibition by 13 students, 6 from KAIT and 7 from overseas.
-- Best student poster award--
・Yukito SEO(KAIT, JAPAN)
・Renjie QI(Yangzhou University, China)
【Presentation】
Themes and moderators in each field
<Information>
■Embodied Intelligence
Professor Noriyuki Kawarazaki, Department of Information Systems, Faculty of Information Technology
Professor Ryo Saegusa, Department of Information Systems, Faculty of Information Technology
■Intelligent Media Processing and its Application
Professor Hiroyuki Tsuji, Department of Information and Computer Sciences, Faculty of Information Technology
<Environmental Energy>
■Environment & Energy
Professor Takeshi Kawashima, Department of mechanical Engineering, Faculty of Engineering
■Environment & Vehicle - Changing toward Electrification and Unchanging vehicle Dynamics Performance -
Professor Makoto Yamakado, Department of mechanical Engineering, Faculty of Engineering
<Health and Life>
■Future aspects of genome research and its related education
Professor Ayumi Koike, Department of Applied Bioscience, Faculty of Engineering
Professor Takeji Takamura, Department of Applied Bioscience, Faculty of Engineering
■Life Science DX - Informatics and Electronics Meet Life Science -
Professor Noriko Hiroi, Department of Electrical and Electronic Engineering, Faculty of Engineering
【60th Anniversary Celebration Message】
■ Chulalongkorn University, Dr. Bundhit Eua-arporn, President of Chulalongkorn University
■ Yangzhou University, Prof. Ding Jianning, President of Yangzhou University
■ Universiti Tunku Abdul Rahman (UTAR), Ir. Professor Dato' Dr. Ewe Hong Tat, President of UTAR
■ Universitas Internasional Batam (UIB), Dr. Iskandar Itan, Rector of UIB
■ Politeknik Elektronika Negeri Surabaya (PENS), Dr. Ali Ridho Barakbah, Director of PENS
■ Thai Binh university of Medicine and Pharmacy, Dr. Nguyen Dui Duon, President of Thai Binh university of Medicine and Pharmacy
■ Sirindhorn International Institute of Technology (SIIT), Thammasat University, Prof. Pruettha Nanakorn, Director of SIIT
■ Bangkok University, Dr. Kingkarn Sookhanaphibarn, Asst. Prof. of Bangkok University
■ Seattle Colleges, Ms. Kathie Kwilinski, Director of International Programs